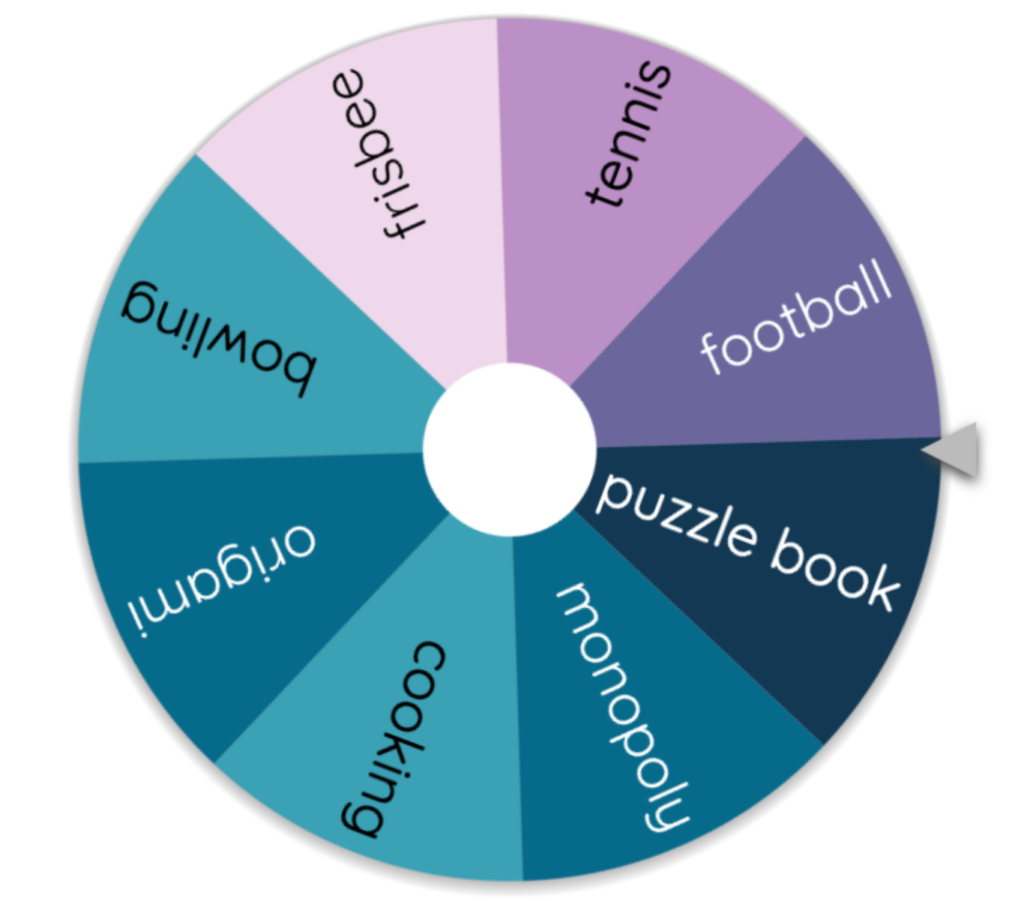 OK, I'm finally getting around to the 2nd instalment of my blog series – how can I get my children off their screens?
You may have read part 1 in which I talk you through the holiday spidergram. In this – part 2 – I'm adding an element of jeopardy to the picture with another technique for selecting activities – the random activity spinner. This technique might work for your family if you like a bit of randomness and adventure in your lives. We're pretty keen on randomness around here, so it's no surprise we incorporated this into our activity planning.
Credit for this idea goes to my son, Arthur, who always knows things and is handy with technology. And it also relies on the brilliant people at Wheel of Names who've created the tool you'll need.
So, how does it work?
Well, first of all, head over to the Wheel of Names web site and have a bit of fun spinning the wheel.
On the right hand side of the Wheel of Names home page, you'll see there's a list of names. Delete that list, because this is where you're going to write your list of possible activities.
Now you can work together as a family (or whoever's going to be involved in this plan) to come up with a list of activities that you think you might like to do. The list can include anything that you can realistically do today (or in the time period you're planning for). So, for example, probably not "become a professional footballer" or "go penguin watching in Antarctica." But "go to the cinema" might be fine if you have one nearby, and definitely "play a card game" or "bake a cake" could work well.
Every time someone thinks of something you could do today, add that item to the list. You'll need at least 3 items – the more you add, the more randomness and excitement will follow. The only limit is your imaginations – add 30 items if you like.
At this point, if they haven't worked it out already, you might want to point out to your children that they can change the settings of the wheel (click "customise" at the top of the screen). This will keep them going for a while, so here's an opportunity to go and make a cup of tea and check your social media feeds…
…
…
Once you've decided that's enough of that (this is, after all, a screen-based activity), bring things back to order and suggest spinning the wheel. Make sure everyone agrees to do whatever the wheel chooses (if there's anything that anyone will veto, they should say NOW before the wheel gets spun). Resolve any ensuing disputes. Then, the youngest member of the family gets to spin the wheel.
And there you are – that's your next activity sorted. Have fun doing a non-screen based thing for a while.
Cool, huh? I hope you enjoy the random activity spinner. I'd love to hear whether it works for you.
If you liked this and the holiday spidergram, look out for the next instalment of How can I get my children off their screens? Coming soon… the activity voting spreadsheet (yes, really).