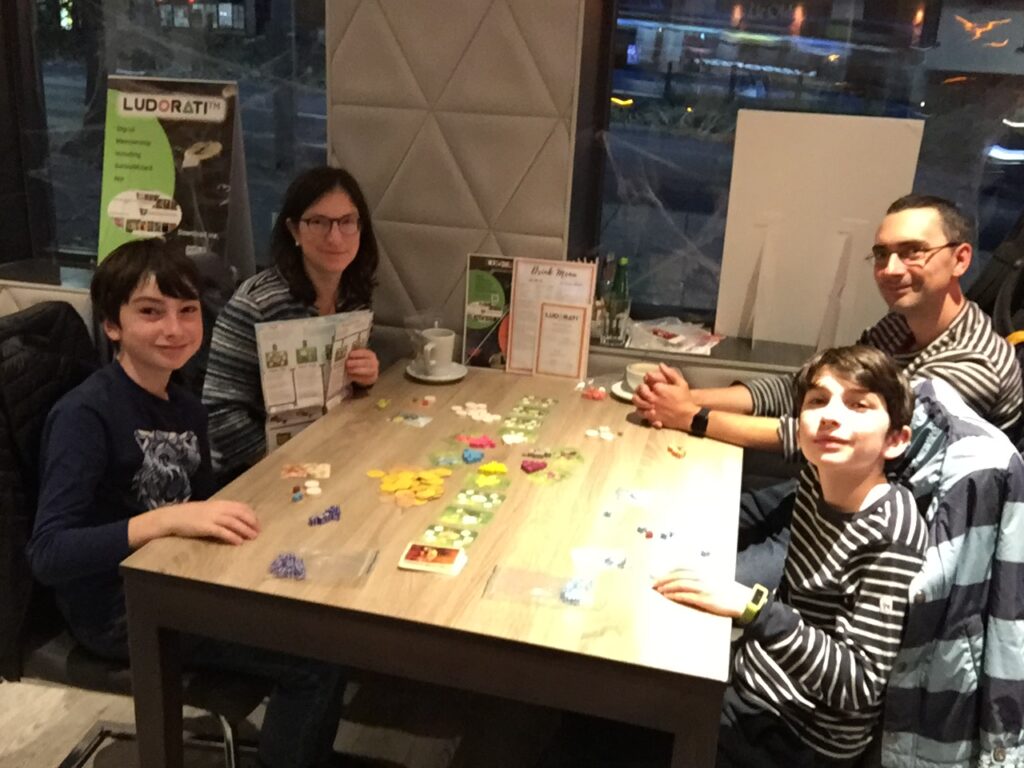 For autumn half term 2021, we've planned an adventure and I'm blogging the trip here. Our starting point is to visit the UK city with the most highly rated escape rooms, which happens to be Nottingham. After that, we'll spin our TripRandomiser.
Day 1: Beckenham to Nottingham
The first leg of our train journey took us to Herne Hill where we visited our favourite cafe, Sesami.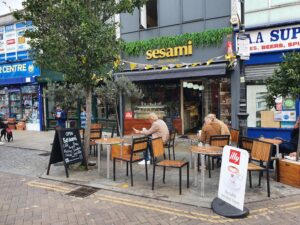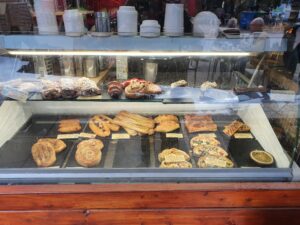 Leo, a sausage roll fan, says the sausage rolls are 3 times better than any other sausage rolls.
We took the train from Herne Hill to Nottingham via St Pancras.
Our accommodation is an AirBnB situated between the train station and the centre of Nottingham. It's a small house – fairly basic but convenient for exploring the city.
For dinner, we chose Paaji's – Indian fusion street food served in a small characterful pub, the Kean's Head. We definitely concur with the 4.9 rating on Google maps – delicious loaded chips, chaat and garlic paratha, lots of interesting beers and Fentimans soft drinks.
And then back to the Airbnb to watch Bakeoff. Tempted to try making a PrinzRegentenTorte when we get home.
Day 2: Nottingham day 1
We began the day at Green's Windmill and Science Centre. Turns out one of the UK's greatest ever physicists was a miller from Nottingham named George Green. At the site of his home, you can now visit a working windmill and an educational centre full of fun hands-on exhibits demonstrating concepts related to electricity and magnetism. Right up our street and needless to say we had a great time. Sad though to learn that George died in his 40s having breathed too much dust in his windmill.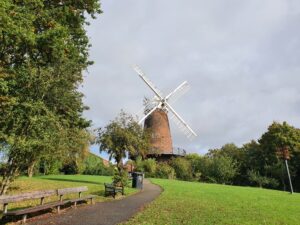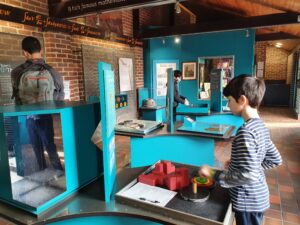 For lunch, we went to Pizzamisu – great Napolitan pizza and deep fried doughballs with Nutella. Friendly if somewhat slow service.
Then it was time for our first escape room – Daylight Robbery at Cryptology. This had a lot of hype to live up to but it didn't disappoint. There was so much in it, just so many puzzles to do, you could never finish it all. It's designed so that everyone can achieve the basic task but beyond that the sky's the limit. We had a brilliant time and are super excited about our next escape rooms now.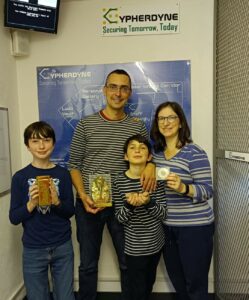 Finally, what better to round off our day than a board games cafe? Round the corner from Cryptology is Ludorati, a spacious high-ceilinged venue with a wall of games. We tried out Waggle Dance, which took all our remaining brain power to learn and then play. Perhaps slightly more than we'd bargained for, but we had a sense of achievement at the end.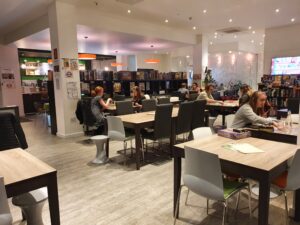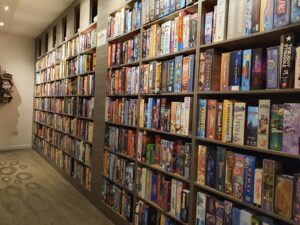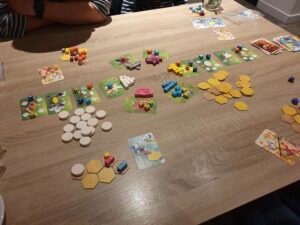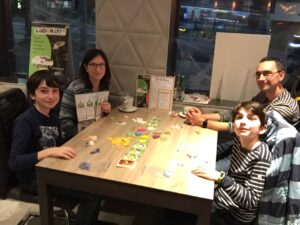 Day 3: Nottingham day 2
In the morning, we visited the caves under Nottingham where we learnt how the city's residents have used spaces they carved out of the soft sandstone, from medieval times onwards.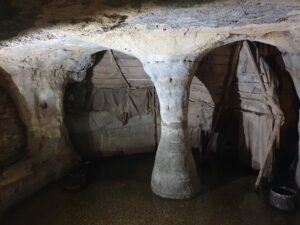 We also went to the Nottingham Contemporary art gallery which had three small exhibitions. We found it a bit inaccessible, but we enjoyed the shop and Leo is very pleased with his new book, Paint by Sticker: Cats.
Lunch was pasta at Solo Grano. A bit slow again –  we resolved to visit more cafes.
Next, the highlight of our day – Monuments escape room at Cave Escape. A story-driven room based on the true story of rescuing art from the Nazis, popularised by the George Clooney film The Monuments Men. This game actually takes place in an underground cave and has some great effects and professional hosting. Monuments is known to be hard and has around a 30% success rate. We only just made it out within the hour.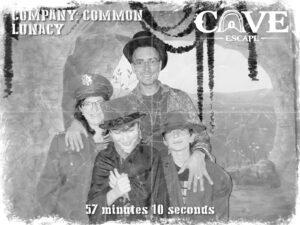 Cave Escape is near another games cafe, so we thought we'd pop in to The Dice Cup. Somewhat grungy, but popular and clearly much-loved. We enjoyed a game of Metro X and some vegan cakes.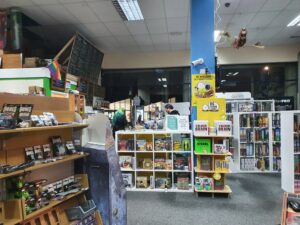 Dinner was burgers and loaded fries at BOHNS Best Burgers. Mmm, yum. And friendly relaxed staff made us feel at home.
Our attention turned to where we'd be heading next after Nottingham. We tried spinning the TripRandomiser a few times, but as we've found in the past accommodation is in short supply on Friday and Saturday nights, so we turned to the less random approach of searching on AirBnB and Booking.com for any accommodation that's in a town centre and not too expensive. The clear winning option (which I eventually found on LateRooms.com) was Staybridge Suites, so that determined the next stop on our tour – Birmingham!
Day 4: Nottingham to Birmingham
Excellent start to the day with breakfast at Cartwheel Cafe. Something for everyone there.
Then for our final Nottingham escape room – the renowned Curio at Escapologic. This is one of a kind, a totally unique room – atmospheric and varied. Our experience is clearly paying off as we escaped from this challenging room with 10 minutes to spare.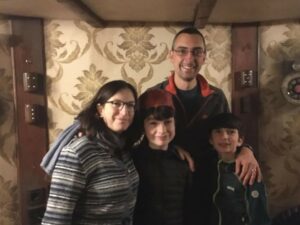 That concluded our Nottingham stay. We took the train to Birmingham and settled in to our Staybridge Suites apartment. They managed to give us 2 interconnecting rooms. Each room has a kitchenette and breakfast is included in the price. Our initial booking is for 2 nights but we start thinking about staying longer.
Despite somewhat mixed reviews, Comptoir Libanais works well for our dinner as somewhere with a children's menu where the grownups can enjoy mezze.
Day 5: Birmingham day 1
Some of us explore the shopping centre on our doorstep. Then, to find our bearings further we opt for the self-guided Treasure Hunt Birmingham, which sends clues to all our phones while we explore the centre of town. This worked pretty well for us as a way of keeping the children engaged on a walk.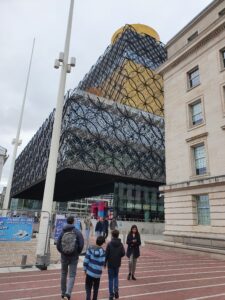 We did get a bit cold, so we warmed up in Syrian cafe, Damascena, at the end. I enjoyed my hot chocolate, made with actual chocolate stirred into steamed milk, but I understand the milkshake was grainy.
For dinner we turned to the trusty Deliveroo and ordered from Colbeh Persian Kitchen. I was excited to try barberry rice as we have barberry shrubs in our garden and I'd heard that the berries are used in Persian food. I loved them and am now very keen to find out whether our shrubs produce edible berries like these.
Day 6: Birmingham day 2
We booked a table at the nearest (and fabulously named) games cafe, Chance and Counters. We played Sushi Go, Calico and Catchphrase. We all enjoyed our food (more burgers and loaded fries, hurrah).
From there we had a long walk to the Pen Museum – a small volunteer-run museum promoting the history of Birmingham's pen nib industry. At one time in the 18th century, 75% of the world's pen nibs were made in Birmingham. These steel nibs were a major technical breakthrough compared with the feather quills that were in use previously. The museum volunteers do a fantastic job of bringing this to life, with plenty of hands-on activities including making our own pen nibs using the old 18th century machinery.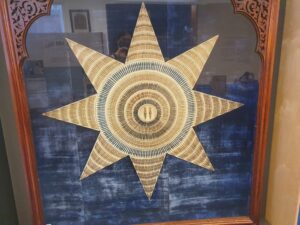 Day 7: Birmingham day 3
For our final day, we visited Treetop Adventure Golf. This was our first indoor adventure golf experience and was a fabulous jungle fantasy-land. We completed 2 18-whole courses, at which point we felt the need for some daylight.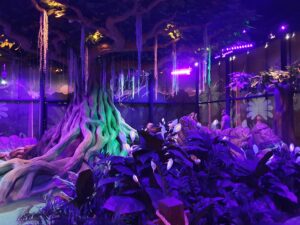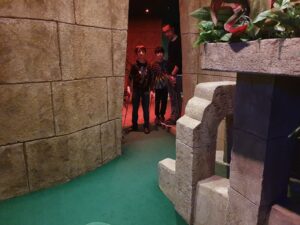 In the afternoon we went to Birmingham's science museum, Thinktank. I found it rather a frustrating experience for various reasons which I'm planning to write to them about, but Leo was in his element in the science garden.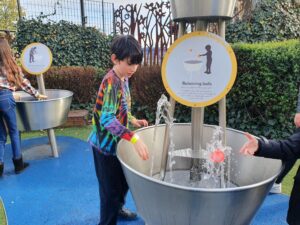 For a treat on our last night, we ordered dessert via Deliveroo from LA-Pop. All agreed this was an OP conclusion to our trip.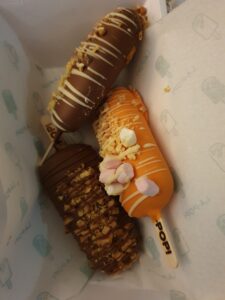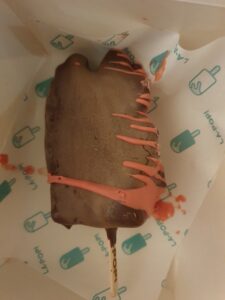 See also Family Holiday Fun: Google Maps Picture Competition